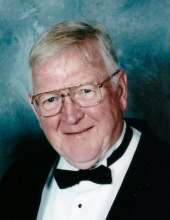 Obituary for Robert McNichols
Robert Charles McNichols, age 86, passed away peacefully Thursday, August 22, 2019 at Wingate of Sharon. He was the son of the late John J. and Mary (Earley) McNichols.

Bob was born on August 4, 1933 in Boston and was a graduate of Boston Trade High School. He proudly served his country in the US Army during the Korean War. He married his late wife Bernice M. (MacCormack) on November 10, 1956 in Boston. He was employed as an estimator for RS Means in Kingston, Massachusetts as a contributing editor for Means' Cost Data products. Early in life his interests were his three sons, as a father, coach, and an Assistant Scoutmaster of Troop 7. Later in life his interests were doting over his beloved daughter in law Lisa (who was thought of more as a daughter) and his grandchildren Kristin and James. All through his married life, he and his best friend, boss, and late wife Bernice were side by side. Bob was a loving and devoted husband, father and grandfather.

Devoted father of Robert McNichols and his wife Lisa of Gainesville, Florida and Joseph McNichols and Mark McNichols, both of Foxborough. Loving grandfather of Kristin McNichols and James McNichols of Florida. Brother of Mary McNichols of Foxborough, Bernard McNichols of Plainville, Jean Silva of Foxborough and the late John McNichols, Dorothy McNichols and Ann Silva.

Relatives and friends are kindly invited to attend calling hours on Thursday, September 5 from 4 PM to 7 PM at the Roberts and Sons Funeral Home, 30 South Street, Foxborough. A funeral service will be held at the funeral home on Friday at 11 AM. Interment to follow at St. Mary's Cemetery, Foxborough. For additional information please contact 508 543-5471. To send an online condolence please visit the funeral home web site at www.robertsandsonsfuneralhome.com.

In lieu of flowers, donations in Bob's memory may be made to the Foxborough Discretionary Fund, PO Box 636, Foxborough, MA 02035.