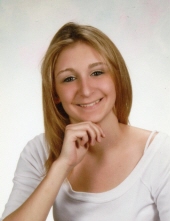 Obituary for Cassandra "Cassie" Guerrini
Cassandra "Cassie" Marie Guerrini, age 29, passed away on July 18, 2018.

She was a beloved mother to Morgan A. MacCormack of Worcester and daughter to the late Brian P. Guerrini of Mansfield and Michelle Michitson of Haverhill. Cassandra was a loving sister to Anastasia, Sophia and Ariana Michitson of Haverhill as well as niece to Bernard Guerrini, Jr. of Franklin, Michelle Guerrini-Foley and James Foley of Norton and Kristin Spellman. She was a dear cousin to Kailey, Jocelynn and Cameron Guerrini of Franklin, Joseph, James, Jenna and Jamie-Lynn Foley of Norton and Veronika and Katrina Spellman. Beloved granddaughter of Bernard P. and Patricia Guerrini of Mansfield, Judi Spellman of Quincy and Brian and Connie Spellman of Stoneham. Cassandra is survived by many aunts, uncles, extended family and friends.

Cassie was born on May 7, 1989 in Attleboro. She graduated from Mansfield High School and attended Southern New Hampshire University. In her younger years she had thoroughly enjoyed softball and cheerleading. Cassie adored her daughter Morgan from the very beginning and treasured time spent with her nieces, nephews and grandparents, as well as extended family and cherished friends.

Relatives and friends are graciously invited to attend calling hours on Thursday, July 26 from 4 to 8 PM at the Roberts and Sons Funeral Home located at 30 South Street, Foxborough. A Funeral Mass will be held on Friday, July 27 at 11 AM at St. Mary's Church located at 330 Pratt Street, Mansfield. A private burial will be held at a later date. For additional information please contact 508 543-5471. To light a candle or send an on line condolence please visit the funeral home web site at www.robertsandsonsfuneralhome.com.

In lieu of flowers, donations may be made in Cassie's memory to the College America Fund, please mail donations to 69 Franklin St. Mansfield, MA 02048 (to benefit Morgan A. MacCormack's education).