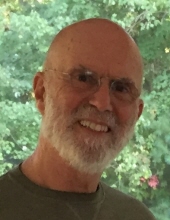 Obituary for Robert "Bob" B. Lomus
Robert Benjamin "Bob" Lomus, 69, a longtime resident of Foxborough, passed away unexpectedly on July 7, 2018. He was the precious husband of Valerie (Plynkofsky) Lomus for 25 years.

Born in Boston on November 6, 1948, he was the son of the late Benjamin and Catherine (Judge) Lomus. Bob was a graduate of Dedham High School. He attended Northeastern University and graduated with a degree in Civil Engineering. He was employed as a Project Manager for 26 years at Central Ceilings in South Easton prior to retirement.

Bob was a member of the South Walpole United Methodist Church for over 40 years. Always very active in the church, he served as both a Sunday School teacher and lay leader. In retirement he drove the VanGo for the Foxborough Council on Aging. Bob was also a member of the Board of Directors for Foxborough Cable Access. In addition, he was an active volunteer at Foxborough Cable Access, filming and editing events for the Foxborough Council on Aging. Bob was a member of the YMCA for over 30 years. He was an avid bicyclist, swimmer, and tri-athlete. One of his proudest achievements was the completion of two Ironman triathlons in Lake Placid New York. He also enjoyed spending time with his family and friends, gardening, traveling to Hawaii, and playing the ukulele.

In addition to his beloved wife Valerie, Bob is survived by his sister, Kathleen (Lomus) Pedroli and her husband John of Belmont, North Carolina. He is also survived his nieces Denise, Jayne, Michelle, Maryann and his nephew Joseph. Also survived by ten great nephews and two great nieces, and several cousins.

Relatives and friends are invited to attend calling hours on Friday, July 13, 2018 from 4 to 8 PM at the Roberts and Sons Funeral Home, 30 South Street, Foxborough. A funeral service will be held on Saturday, July 14th at 11 AM at the South Walpole United Methodist Church, 1886 Washington Street, South Walpole. For additional information please contact 508 543-5471.

To send an online condolence, please visit the funeral home website at
www.robertsandsonsfuneralhome.com.

In lieu of flowers, gifts in memory of Bob can be made to the South Walpole United Methodist Church, P.O. Box 144, South Walpole, MA 02071.