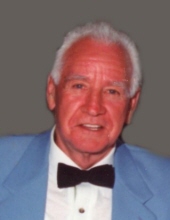 Obituary for Witmore "Pete" I. Turner, Jr.
Witmore "Pete" I. Turner, Jr., a life-long resident of Foxborough, passed away on May 18, 2018. He was the son of the late Witmore I. Turner, Sr. and Viola (Sylvia) Turner and the beloved husband of the late Anna (Robbins) Turner.

Pete was born on July 23, 1919 in Foxborough. He was a graduate of Foxborough High School, Class of 1938 and attended Wentworth Institute, Stonehill College and the University of Massachusetts and was a certified vocational teacher. He enlisted in the Marine Corp shortly after Pearl Harbor and served four years, with 19 months in the South Pacific area and participated in the Bougainvill Campaign. He retired as the Foxborough first building commissioner (1960-1981) and was elected to the Board of Assessors for over 42 years. He served on the Industrial Committee for 8 years. He served on the town owned parcel review committee and was a member of the Foxborough permanent municipal building for 24 years. Co-founder and past president of Norfolk County City Building & Fire's Official Association. Member of the MA Building and Inspector's Association. Corporator of Southeastern MA Building and Fire Chief's Association. Past president of Norfolk-Suffolk Association of Assessors, charter member and past president of Foxborough Rotary Club and recipient of Paul Harris award – the Rotary's highest honor. A member of St. Albans Lodge A.F. & M. for over 70 years. Member of the Foxborough Country Club and served on the board of governors for several years. Past president and longtime member of the Board of Trustees for the Doolittle Home and retired in 2012 after 47 years on the board.

Pete loved all sports. After high school he played basketball in the old F.A.A., Football for the Easton Huskies and bowled for several years in the Legion League. In his golfing days he won C division FCC in 1965, The Governor's Cup in 1976 and six AAGA Seniors in is age bracket.

He has two sons, Paul and Robin Turner and his wife Jeanette. Two grandchildren, Jonathan Turner and Melissa McGuirk and six great grandchildren.

Relatives and friends are kindly invited to attend calling hours on Wednesday, May 23 from 4 to 7 PM at the Roberts and Sons Funeral Home, 30 South Street, Foxborough. A funeral service will be held at 11 AM at the Funeral home on Thursday. Interment to follow at Rock Hill Cemetery, Foxborough. For additional information please contact 508 543-5471. To send an on-line condolence please visit the funeral home web site at www.robertsandsonsfuneralhome.com.

In lieu of flowers, donations in Pete's memory may be made to the Doolittle Home, 16 Bird Street, Foxborough, MA 02035.