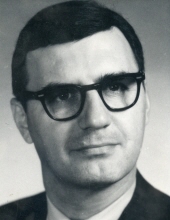 Obituary for Charles Kastrenos
Charles J. Kastrenos, age 89, passed away peacefully on Saturday, March 31, 2018 in Boston surrounded by his loving family. He was the son of the late Demitrios and Eleni (Doulas) Kastrenos.

Charles was born in Gloucester on June 14, 1928 and was a graduate of Peabody High School, class of 1946. He proudly served his country in the United States Navy during WWII. He attended the Naval Academy Preparatory School in Bainbridge, MD, attended UMASS Amherst and was a graduate of Wentworth Institute, Class of 1952. He and his wife Wendy were married at the St. Vasilios Greek Orthodox Church in Peabody in 1971. He has been a Foxborough resident for the past forty years.

Charles was a mechanical engineer for General Electric, worked as a private contractor, and worked at the MIT Plasma Science and Fusion Center. He was a member of the St. Gregory the Theologian Church in Mansfield. He was a Freemason member of St. Alban's Lodge in Foxborough and a member of the Allepo Shriners Temple in Wilmington. He was a volunteer for the Foxborough Farm Stand, Mansfield Food Pantry and for the FISH Program. He was a former volunteer at the Foxborough Senior Center and was a member of the Foxborough Serenading Seniors. He was the founder of Foxborough Investment Club and enjoyed trading stocks. He was on the executive board of the Foxboro Historical Society as he was an avid history buff. He loved to travel. He was a loving and devoted husband, father and grandfather.

Beloved husband of Wendy-Lou (Dennis) Kastrenos. Devoted father of Laura Murray and her husband Alastair of Christchurch, New Zealand, Elaine Gunsolley and her husband Shawn of Charlotte, NC and James Kastrenos and his fiancée Lauren Saylor of Newton. Loving grandfather of Grayson and Abigail Gunsolley and Athena Murray. Brother of the late Mary and Theodore Harrison and Eugenia and Thomas Ghikas.

Relatives and friends are kindly invited to attend calling hours on Monday, April 9 from 4 to 8 PM at the Roberts and Sons Funeral Home, 30 South Street, Foxborough. During calling hours a masonic service will be held at 6:30 PM and at 7 PM, a memorial service will be held followed by words of remembrance. A funeral service will be held on Tuesday at 11 AM at St. Gregory the Theologian Church, 1007 West Street, Mansfield. For additional information please contact 508 543-5471. To send an online condolence, please visit the funeral home web site at www.robertsandsonsfuneralhome.com.

In lieu of flowers, donations in Charles' memory may be made to the Foxborough Discretionary Fund, PO Box 636, Foxborough, MA 02035.