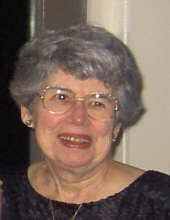 Obituary for Joan T. McAuliffe
Joan Therese (Devlin) McAuliffe passed away peacefully on March 20, 2018. She was the daughter of John and Helen (O'Leary) Devlin, sister of Marguerite Williamson of Falmouth and wife of the late Robert V. McAuliffe, Sr.

Joan was born on July 16, 1930 in Taunton. She attended the Weir Grammar School and graduated from St Mary's High School. She studied to be a dietitian at Salve Regina College in Newport, RI and was proud to be a member of the Class of 1952, the 2nd graduating class.

After graduation Joan worked at Children's Hospital in Boston and then at Norwood Hospital where she met her beloved Bob from the purchasing department. In October, 1954 they were married and Joan officially joined the McAuliffe clan. Together they raised 13 children, a "baker's dozen".

Joan was a creative person. She was most content when her hands were busy. She enjoyed knitting, sewing, gardening, baking and gourmet cooking. She was known for the beautiful wedding cakes that she made for friends and family. She donated many, many preemie hats to St Elizabeth's and Emerson hospitals and her grandchildren treasure the Irish knit Christmas stockings that she made for them. She had 30 grandchildren and 13 great-grandchildren.

Joan was the mother of Robert, Jr. and Toni of California; Maureen Anders and Mark of New York; Paula Callanan and Dennis of Quincy; Patricia of New Hampshire, Mary Ellen and husband; Timothy and Tara of Rhode Island; Peter of Foxboro; Kevin and Louise of Foxboro; Siobhan McGrath and Rick of Georgia; Thomas and Donna of Foxboro; Rosemary Schwartz and Tim of Minnesota; Bill of Idaho; and Ted and Lenore of Foxboro.

Relatives and friends are kindly invited to attend calling hours on Tuesday, March 27 from 4-8 PM at the Roberts and Sons Funeral Home, 30 South Street, Foxborough, A Funeral Mass will be celebrated on Wednesday at 10 AM at St. Mary's Church, 58 Carpenter Street, Foxborough. Interment to follow at St. Mary's Cemetery, Foxborough. For additional information please contact 508-543-5471. To send an on line condolence, please visit the funeral home web site at www.robertsandsonsfuneralhome.com.

In lieu of flowers, donations in Joan's memory may be made to the Foxboro Food Pantry in care of the Foxboro Discretionary Fund, PO Box 636, Foxborough, MA 02035.