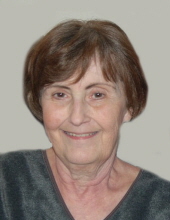 Obituary for Patricia H. Medeiros
Patricia H. (Drago) Medeiros, age 77, passed away on
Wednesday, February 28, 2018 surrounded by the comfort of her loving family, after a hard fought battle with cancer.
She was the daughter of the late Placido and Elizabeth Drago.

Patricia was born in Boston on August 7, 1940 and was a
graduate of Fontbonne Academy in Milton. She loved spending
time with her family. She also enjoyed Bingo, country music
and trips to Tennessee with her husband Anthony. She was a devoted wife, mother
and grandmother.

Beloved wife of Anthony Medeiros. Devoted mother of son John and his wife Betsy, daughter Jennifer and husband Chris, and daughter Carolyn and husband Shawn. Proud grandmother of Shane. Sister of Betty Delorey and late husband Charlie and sister Elaine O'Brien and husband Paul.

Relatives and friends are kindly invited to attend
calling hours on Monday, March 5, 2018 from 9-10:30 AM at
the Roberts and Sons Funeral Home, 30 South Street in
Foxborough followed by a Funeral Mass at 11 AM at St.
Mary's Church, 58 Carpenter Street in Foxborough.
Burial will be at Rock Hill Cemetery, 81 South Street,
Foxborough. For additional information please contact
508-543-5471.