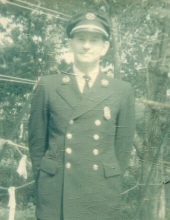 Obituary for Albert D. Wheeler
Albert David Wheeler, age 91, passed away after a full life at his home on January 30, 2018. He was the son of the late Russell Wheeler and Carolyn Mae (Metcalf) Brown.

Al was born on March 4, 1926 in Foxborough and attended Foxborough Public Schools. He married his wife Marjorie (Shufelt) on September 4, 1959. He was a life-long Foxborough resident and was employed as a fireman for the Foxborough Fire Department until his retirement in 1980. Al was an avid New England sports fan and most enjoyed spending time with his family.

Beloved husband of Marjorie (Shufelt) Wheeler. Loving father of Sharon Lessard and her husband Calvin of Mashpee, Albert Wheeler of Attleboro, Steven Ball of Mashpee and Kathleen Salomaa and her husband Robert of Foxborough. Devoted grandfather of eight and great-grandfather of twelve. Brother of the late Russell and Ernest Wheeler.

Relatives and friends are kindly invited to attend calling hours on Monday, February 5 from 1 PM to 4 PM at the Roberts and Sons Funeral Home, 30 South Street, Foxborough. A memorial service will be held at 4 PM following calling hours at the funeral home. For additional information please contact 508 543-5471. To light a special candle or send on-line condolences please visit the funeral home web site at www.robertsandsonsfuneralhome.com.

In lieu of flowers donations in Al's memory may be made to the Foxborough Discretionary Fund, PO Box 636, Foxborough, MA 02035.