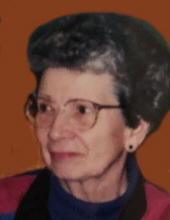 Obituary for Roberta P. McIntyre
Roberta P. (Davies) McIntyre passed away on January 30, 2018 while in rehab following heart surgery. She was the wife of Edward A. McIntyre, to whom she was married for 51 years. Born in Foxboro on May 9, 1931, she was the daughter of the late Wilmer and Alice (Perry) Davies. She was a graduate of Foxboro High School, where in her senior year she participated in a pilot program with the Foxboro Company and the School Department where she alternated attending school one week and working one week.

She served in the US Air Force during the Korean War and was honored to have her name on the Korean War memorial on the Foxboro Common. Following her Air Force service she worked at the Pentagon in Washington, D.C.

She is survived by her three children, Kathleen Herrick and her husband Mickey of Lunenburg, MA, Kristine Fletcher of Jacksonville, FL and David McIntyre and his wife Kim of McDonough, GA. She is also survived by five grandchildren and eight great grandchildren, and by her sister Jacqueline Puffer and her husband Joe of Glendale, RI, as well as by her half-brothers Steve and Peter Davies and her half-sister Kay Waseleski.

She especially loved spending her summers at the family lakeside summer home in Maine, visiting with family and friends, listening to the loons and watching the sunsets. She was active for many years in the Foxboro Senior Center, the Foxboro Discretionary Food Pantry and as a person of faith, was a long-time member of the Union Church of South Foxboro, where she served as treasurer, clerk, and volunteer secretary for several years.

Relatives and friends are kindly invited to attend calling hours on Saturday, February 3 from 10 AM to 12 Noon at the Roberts and Sons Funeral Home, 30 South Street, Foxboro. A funeral service will be held at the Union Church of South Foxboro, by Pastor William Dudley, 384 South Street, Foxboro at 12:30 PM. Interment to follow at Rock Hill Cemetery, Foxboro. For additional information please contact 508 543-5471. To light a special candle or leave an on-line condolence, please visit the funeral home web site at www.robertsandsonsfuneralhome.com.

In lieu of flowers donations can be made to the Friends of Foxboro Seniors, PO Box 116, Foxboro, MA 02035.