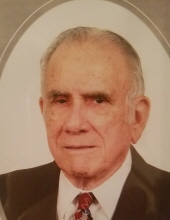 Obituary for William H. Echols, Jr.
Foxborough – William H. Echols, Jr., age 94, passed away in his sleep at his home on January 10, 2018. He was the son of the late William and Essie (Beard) Echols from Danielsville, Georgia and husband of the late Carmella (Connie) Toppi Echols of Foxborough.

Bill was born May 29, 1923 in Athens, GA. He grew up in Danielsville, Georgia where his family farmed and sold their goods for survival. At the tender age of fifteen, Bill, like many others his age, entered the Civilian Conservation Corps where he fought fires in Oregon. It was post-depression in the United States and the only way he could financially assist his family back home in Georgia.

Upon completing his commitment to the Civil Conservation Corps, Bill proudly served his country in the United States Navy for 20 years. His time in service encompassed WWII (to include being in Tokyo Bay for the surrender of the war by Japan), the Korean War and the Vietnam conflict. Throughout his career, he served on eight different destroyers and two aircraft carriers. Bill's final tour of duty was served in Yokosuka, Japan as one of three Bureau appointees to represent the United States Navy "Commissary Standards Team" throughout the Far East. In August 1961, he retired and returned to Foxboro with his family.
He married the love of his life, Carmella, on February 5, 1944 at St. Joseph's Church in Athens, GA. They resided in 6 different states and Japan during his naval career, and returned to Foxboro where they had previously built their home in 1957.

After his military retirement, Bill was a Corporation Appointee at Harvard University where he served as Director of College Dining until retiring in1986. Bill was long time member of the former First Baptist Church in Foxboro, Past Master of St. Alban's Lodge A.F. & A.M. in 1983, and held memberships at the Foxborough VFW and the America Legion.

He mostly enjoyed spending time with his family and the many friends he had in town.

He was a devoted and loving father of William Echols, III and his wife Kathleen of Foxborough, Deborah and her husband Richard Celeste of Marston Mills, and Cynthia and her husband Andrew Jamieson of Foxborough. He is survived by thirteen grandchildren and twenty-three great grandchildren. He was predeceased by his sister, the late Gladys Wentworth, brother William "Buddy" Echols and his sister Bethania, who died at the age of two from pneumonia complications.

Relatives and friends are kindly invited to attend calling hours on Tuesday, January 16 from 4:00 to 8:00 PM at the Roberts and Sons Funeral Home, 30 South Street, Foxborough. A funeral service will be held at 10 AM on Wednesday at Victory Assembly of God Church, 67 High Plain Street, Sharon, MA. Interment will follow at the Massachusetts National Cemetery in Bourne. For additional information please contact 508 543-5471.

To light a special candle in Bill's memory please visit the funeral home web site at www.robertsandsonsfuneralhome.com. In lieu of flowers, donations may be made in William's memory to Operation Smile, 6435 Tidewater Drive, Norfolk, VA 23509 or Israel Today Ministries, P.O. Box 150288, Arlington, TX 76015.