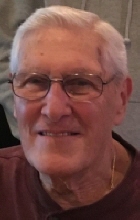 Obituary for Robert O. Labouliere
Beloved Father and Grandfather

Robert O. Labouliere, age 89, passed away peacefully on December 6, 2017 at Norwood Hospital. He was the son of the late Francois and Lidia (Fluet) Labouliere and was the husband of the late Earline-Mary (DeVautour) Labouliere.

Bob was born on November 23, 1928 in Fall River and was a graduate of Prevost High School in Fall River. He was employed as a supervisor for the former Foxboro Company in the assembly and finishing department. He married his late wife Earline-Mary on July 15, 1977 in Norton. He was an avid New England sports fan and loved his dog Sam. Bob was a devoted husband, father, and grandfather.

Loving brother of Roger Labouliere and his wife Pauline of Brockton, Lucy and her late husband Arthur Valcourt of Fall River, the late Cecile Levesque of Tiverton and her late husband Armond, the late Loretta Levesque of Fall River and her late husband Louis, the late Theresa Labouliere of Fall River and brother in law of Yvonne Labouliere and her late husband Raymond and Helen Labouliere and her late husband Ralph. Dear friend of Paul, Connie, and was affectionately named Mr. Bob by Matthew, Joseph and John Gonsalves. Grandfather of Brittany Cochrane and Danny Carlos. Bob was loved by many nieces and nephews.

Funeral Information

Relatives and friends are kindly invited to attend calling hours on Sunday, December 10 from 1 to 4 PM at the Roberts and Sons Funeral Home, 30 South Street, Foxborough. A Funeral Mass will be celebrated on Monday at 10 AM at St. Marys Church, 58 Carpenter Street, Foxborough. Interment to follow at Rock Hill Cemetery. For additional information please contact 508 543-5471.

To light a special candle in Mr. Bobs memory please visit the funeral home web site at www.robertsandsonsfuneralhome.com.