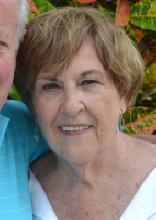 Obituary for Ann C. Albee
Beloved Wife, Mother and Grandmother

Ann Claire (Finch) Albee of Norton died peacefully on her birthday, December 18, 2017. She was 72 years old. She died in the bed she shared with her husband of 50 years, Robert Albee. Ann was born and raised in Jamaica Plain, where she met and married the love of her life. They moved to Foxboro where they spent 45 years raising their family. In 2015 they moved to Norton.

Ann was a devoted mother to Susan Healey and her husband Jeff of Mansfield, Christine Albee Purka and her husband Don of VA, Jennifer Albee of Washington, DC and Stephen Albee of Taunton. She was the proud nana of four Robert and Kathryn Healey and Dylan and Derek Purka. Beloved sister of Mary Ferrera of Florida and daughter of the late James and Louise (Doyle) Finch.

Ann graduated from Jamaica Plain High School in 1963 and the School of Practical Art in Boston in 1965. She worked at Foxboro Savings Bank/TD Bank for over 10 years. She was loved by her coworkers and customers alike. Ann brought humor and heart to everything she did. Nothing pleased her more than making people laugh. She leaves behind friends and loved ones from every phase of her life.

Funeral Information

Relatives and friends are invited to attend calling hours on Saturday, December 23 from 1 to 4 PM at the Roberts and Sons Funeral Home, 30 South Street, Foxborough. A Celebration of Life will be held at 4PM at the funeral home. A funeral Mass and interment will be held at a later date. For additional information please contact 508 543-5471. To light a special candle in Anns memory please visit the funeral home web site at www.robertsandsonsfuneralhome.com.