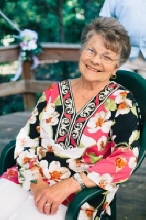 Obituary for Margery Freda Authelet
Beloved Wife, Mother, Grandmother and Great Grandmother

A Foxborough native known for her optimistic views on life and love of flowers, Margery Freda (McKay) Authelet passed away Friday, Dec. 15, 2017 at Sturdy Memorial Hospital, comforted by her husband of 65 years, Jack Authelet, and many family members. Margery, 84 years of age, was born on Flag Day, June 14, 1933, daughter of the late Albert and Freda McKay of Sunlight Farm on South Street and was predeceased by her brother, Raymond E. McKay, who had passed away just one week earlier on December 8, 2017. Deriving their greatest joy from family relationships, Marge and Jack were blessed with five daughters, nine grandchildren and nine great grandchildren.

Family members include Lynne Sarikas and her husband George of North Attleboro, MA, their daughter Leslie Lukow and husband Stefan of Hampstead, NH and their sons, Ethan and Parker; Jayne Siteman and her husband Bob of Foxborough, MA and her sons Eric Guenard and his wife Elizabeth of Marblehead, MA, Jonathon Guenard and his wife Lokelani of Seattle, WA and their children, Riley, Emily and Cooper, and son Elliot Guenard of Hyde Park, MA and his girlfriend, Amanda Aprea; Mary Lou DeCosta of Colchester, VT and her daughter Elaine Day of DeFuniak, FL and her son David DeCosta of Colchester, VT; Laurie Risler and her husband Brian of South Hadley, MA. their son John and his wife Hillary of Tenants Harbor, ME, son Christopher and his wife Mallory of Brookline, NH and their children, Jack and Gwen, and daughter Jennifer Levreault and husband Kyle of South Hadley, MA and their daughters, Mallory and Charlotte. Marge and Jack were predeceased by beloved daughter Susan Diane.

A student at the one-room Quaker Hill School for grades one through six, Marge then transferred for junior high, grades seven and eight, and then her high school years at the first brick Foxborough High School at South and Carpenter Streets where she joined future husband Jack as a member of the Class of 1950. She was a cheerleader in high school and was on the basketball team. She was also selected to attend Girls State in her junior year.

Many high school graduates in 1950 were hesitant to make post-graduate commitments, given the probability of upcoming military service during the Korean conflict. The uncertainty hung heavy and the young couple decided to get married on November 29, 1952. Returning home from their honeymoon, Jacks draft notice was waiting and he had six weeks to report for duty.

In the early years of raising their family, Marge managed some time to work at Quaker Hill Restaurant and remained grateful to owner Charlie Brown for the life lessons learned while serving customers there.

As time went on, Marge worked in the Secretarial Dept. at the Foxboro Company and was then part of the TAG program (Temporary Aid Group) filling open positions on short assignments throughout the company. Then the Foxboro Company formed Shanghai/Foxboro, the first American joint venture with China, for industrial manufacturing, all purchasing done by the Foxboro office to which Marge was assigned for the remainder of her company employment. Young men from China assigned to the purchasing program here in Foxboro were away from their families for long periods of time, and the Authelets included them in their family activities to give them a sense of home away from home.

Public service was also calling, and she served on the Advisory Committee, on the Board of Trustees at Doolittle Home and as a Girl Scout leader. Marge and Jack also served many years as advisors to the youth group at Bethany Congregational Church.

Following her retirement, Marge participated in the senior work program for the town, taking care of the trees and shrubs around Boyden Library. She later shifted to volunteering for the Each One Teach One program and then the summer playground activities, where she became Gramma Margie to hundreds of young campers over the years.



Funeral Information

The family of Margery Authelet invites friends and relatives to attend calling hours on Friday, December 22, 2017, 4 to 7 p.m. at the Roberts and Sons Funeral Home, 30 South Street,Foxborough. A celebration of the life of Margery Authelet will be held Saturday, December 23, 2017 at10 a.m. led by Rev. Bill Dudley of the Union Church of South Foxboro. The service will be held at Saint Marks Church, 116 South St., which has offered its facilities for the celebration.

Since the service is being held in the Advent Season, the official colors for the program are red and white, rather than the traditional black. Christmas decorations already on display inthe church will remain in the spirit of the season.



To light a candle in Marges memory, please visit the funeral home web site atwww.robertsandsonsfuneralhome.com. For additional information please contact 508 543-5471.