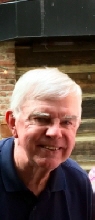 Obituary for Joseph Sheehan
Beloved Husband, Father and Grandfather

Joseph Francis Sheehan, age 74, passed away unexpectedly at Norwood Hospital on Friday, December 15, 2017, after a startlingly brief illness. He was surrounded by the comfort of his loving family.

Joseph was born in Brighton on August 1, 1943, the son of the late Jeremiah and Margaret (McGaffigan) Sheehan. He was a graduate of Boston Latin High School and Harvard University. After proudly serving his country in the United States Army, he earned a Master's Degree in Business Administration from Northeastern University. He and his wife, Judy, were married on July 31, 1971 in Franklin Square, New York.

After a career in finance, Joe used his entrepreneurial skills and became the owner and operator of DCR Carpet Restoration in Foxborough. To say that he was an advid reader doesn't begin to describe his passion for reading. In his retirement, he made daily trips to the Boyden Library, keeping an extensive list of books on 'hold'. He enjoyed daily walks with Reno, and now, Hunter, our Goldens, bringing home the latest neighborhood news. Joe was a member of the Foxborough Country Golf Club, served on several town committees, was a youth soccer referee and a past member of the Foxborough Jaycees.

Joseph leaves behind his beloved wife of 46 years, Judith (Bennett) Sheehan. He was the loving father of Christopher Sheehan and his wife Lony-Ann of Hanover, Timothy Sheehan of Foxborough and the late Daniel Sheehan. He is survived by his sister Margaret Sheehan and her life long companion Bruce Colman, and by his sister Geraldine Seery, all of California. Joseph also leaves behind loving nieces, nephews and many dear friends.

His cherished grandchildren, Tucker and Finnegan Sheehan, brought great joy to his life. They never ceased to amaze him with their love for him, Grandpa Joe. He was grateful to have gone to Disney World with the boys just last year, and he loved being part of their sports, especially hockey. Grandpa Joe rarely missed a game.



Funeral Information

Relatives and friends are kindly invited to attend calling hours on Wednesday, December 27, 2017 from 4-7 PM at the Roberts and Sons Funeral home, 30 South Street, Foxborough. A Funeral Mass will be celebrated on Thursday, December 28 at 10 AM at St. Mary's Church, 58 Carpenter Street, Foxborough. Interment to follow at the Massachusetts National Cemetery, Bourne.