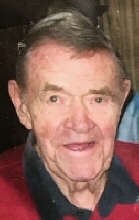 Obituary for James Marshall Sheward
Beloved Father and Grandfather

Foxborough: James Marshall Sheward, age 91, passed away suddenly at Norwood Hospital on Tuesday, December 12, 2017. He was the son of the late Joseph and Florence (Sack) Sheward.

James was born January 28, 1926 in Philadelphia, PA. After graduating high school he enlisted in the US Navy and served in the South Pacific during World War ll. Upon his return he attended the University of Pennsylvania. James and his late wife Doris were married on April 3, 1948.

James moved to Boston in 1951 to open a new branch office of Simons Abrasive Company, When he was transferred back to Philadelphia he chose to stay in Massachusetts. He took a position in sales at Ross Cutter and Machine Co. where he remained until he retired at age 65. Retirement didnt appeal to James and he took a job with Manheim Auto Auction in public relations. This became a whole new career lasting 18 years. James also worked at the Foxboro Raceway Sulky Bar for over 30 years.

James had a passion for politics and was an avid sports fan. He loved all kinds of music and especially enjoyed jazz and blues. Reading was always important to him and particularly found pleasure in poetry as both a reader and an author. Recently his poem Jet Stream was published.

Beloved father to his daughters Deborah L. Sheward and Pamela B. Sheward, both of Foxborough; beloved grandfather to granddaughters Jenna L. Plouffe of Waitsfield, Vt and Hillary J. Harris of Westport, MA, beloved great grandfather her to Berkley James Plouffe of Waitsfield, VT.

Funeral Information

Relatives and friends are kindly invited to calling hours on Thursday, December 21, 2017 from 4-7pm at the Roberts and Sons Funeral Home, 30 South Street, Foxborough. A Funeral Service will be held on Friday, December 22, 2017 at 9am at the funeral home. Burial will take place immediately following at Bourne National Cemetery.

To light a candle in James memory, please visit the funeral home website at www.robertsandsonsfuneralhome.com. For additional information please call 508-543-5471.