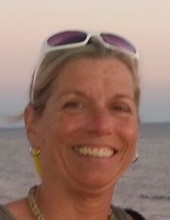 Obituary for Theresa Rayle Rhodes
Theresa Rayle Rhodes of Foxborough, passed away peacefully at her home surrounded by the comfort of her loving family on September 14, 2018, at age 55, after a long bravely fought battle with multiple forms of cancer. She was the daughter of the late Maxime Arrista and Dorothy Margaret (Morici) Rhodes.

Survived by her beloved long-time partner, Elaine Patrick of Foxborough, and her loving family. Loving sister of Dusty and his wife Dorothy Jean Rhodes of Miami, FL, Sandy and her husband Tommy Willis of Eustis, FL and the late Rocky Rhodes. Also survived by her loving nieces and nephews; Dusty G., Katie and Hailey Rhodes and Christopher, Patrick and Anthony Hassett.

Theresa was born on November 28, 1962 in Miami, FL. She was a graduate of Miami High School, Class of 1981, and the Bancroft School of Massage in Worcester, Class of 1997. Theresa practiced massage therapy at Powers of Touch. She loved football and baseball and was the ultimate Miami Dolphins and Boston Red Sox fan. Her love of nature brought her to the outdoors and camping around New England, and to the beautiful beaches and amazing dolphins and manatees of Florida. Her love of animals was unconditional, and she leaves behind her dear pets, Millie, Sammi, and Sophia. Celebrating Christmas and the holidays with family and friends were among Theresa's greatest joys in life, along with Friday night pizza and a few scoops of ice cream, anytime!

Relatives and friends are kindly invited to attend calling hours on Wednesday, September 19, from 4 to 7 PM at the Roberts and Sons Funeral Home, 30 South Street, Foxborough. For additional information, please contact (508) 543-5471. To send an on line condolence, please visit the funeral home web site at www.robertsandsonsfuneralhome.com.

In lieu of flowers, donations in Theresa's memory may be made to the local no kill animal shelter, Mansfield Shelter Friends, Inc., P.O. Box 25, Mansfield, MA 02048.