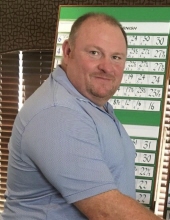 Obituary for Robert Joseph Arnold
Robert Joseph Arnold, age 51, passed away on Wednesday, July 31, 2019. He was co-owner of CEM Services, Inc in Norton, MA.

Bob was born in Bellflower, CA on April 3, 1968, the son of the late John and Joan (Danahay) Arnold. He earned his Bachelor of Science in Environmental Engineering Technology from Norwich University, Class of 1990. He and his wife Ellen were married at their home in Foxborough on June 27, 1998.

Bob was a life-long resident of Foxborough. An avid golfer and was a member of the Foxborough Country Club and Hampton Hall Country Club in SC. He enjoyed spending time at his vacation home with his wife in Bluffton, SC. He loved spending time with his beloved dogs Bama, Mulligan, and Savannah.

Beloved husband of Ellen T. (Troy) Arnold. Devoted brother of Andrew Arnold and his wife Anne of Rye, NH and the late Sarah-Louise Arnold. Brother in law of Tom and his wife Abi Troy of Westford, MA. Also survived by his nieces Samantha and Nick Nelson of Pawtucket, RI, Sarah and Zakary Medeiros of Mansfield, MA Ashley and Justin Talbot of Dover, NH, Meghan Troy of Asheville, NC and nephews Andy Arnold of Royalton, VT and John Troy and his fiancé Marissa Tonachio of Greenville, SC.

Relatives and friends are kindly invited to attend calling hours on Wednesday, August 7, 2019 from 3-8 PM at the Roberts and Sons Funeral Home, 30 South Street in Foxborough. All are welcomed to a celebration of Bob's life on Saturday August 10, 2019 at 3 PM at the Foxborough Country Club, 33 Walnut, St., Foxborough. To leave an on line condolence please visit the funeral home web site at www.robertsandsonsfuneralhome.com.

In lieu of flowers, contributions in Robert's memory may be made to Robert "Bubba" Arnold Scholarship Fund, c/o Foxborough Country Club, 33 Walnut St., Foxborough, MA 02035.