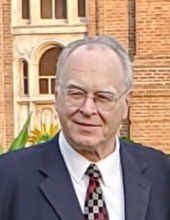 Obituary for Michael W. Zinni
Michael W. Zinni, Esq.
July 5, 1954 - October 15, 2019

Michael W. Zinni, Esq., passed away suddenly from cardiac arrest. He was a kind and generous person, evidenced by his loving family and many friends. Michael was born in Winchester, MA on July 5, 1954, the son of the late C. Thomas Zinni and the late Lou M. (Cross) Zinni. Survived by his loving wife of 40 years, Olympia E. (Carabatakis) Zinni of Mansfield, MA, and their three sons; Alexander Zinni, his wife Jairah, their children and his precious grandchildren, Elissia, Isabella, and Malakai of Mansfield, MA; son, Michael-Jean Zinni, his wife Annemarie of New Orleans, LA; and son, Nick W. Zinni of New Orleans, LA; and brother-in-law, Ulises Carabatakis, of Orlando Florida. Michael is also survived by his siblings: Suzanne Zinni, of Foxboro, MA; Carmine Zinni, his wife Yenny of Foxboro, MA; Corinne Case, her husband Tim of Adams, MA; Sharon Rivers, and her late husband Henry of Foxboro, MA; Marcia Marinelli, her husband Peter of Wrentham, MA; and 11 nieces and nephews.

Michael lived in Woburn, MA until he was 10 years old. The family moved to Foxboro in 1964. Michael, a.k.a. Big Zin, graduated from Foxboro High School in 1972. He continued his education at Suffolk University (Magna Cum Laude). He earned his Juris Doctorate in 1984 and graduated with distinction from New England School of Law. Following in his father's footsteps, he practiced Law as a sole practitioner. He practiced Law in the Boston Area and maintained his office in Newton for over 25 years. He was also admitted to the Mashantucket Pequot Tribal Court.

Although Michael enjoyed many years of practicing Law and helping his clients, he had many interests and passions. He loved music of most any genre but particularly old hymns; a football game every time, with a lot of rewinding; food of any variety, not excluding anyone's leftovers; travel; the Spanish culture; a hopeless logophile; and if there was a Scrabble game, anywhere, he was relentless and took "most" of his opponents down. But without exception, his greatest passion and love was his unrivaled joy for his family.

He will be sorely and forever missed. God rest your soul and may God hold you in the palm of His hands.

Visiting hours are Monday, October 21, 2019 from 4 P.M. to 7 P.M. at Roberts Funeral Home, 30 South Street, Foxboro, MA. Funeral services will be held Tuesday, October 22, 2019, 10:00 A.M. at Victory Church, 67 High Plain Street, Sharon, MA.

In lieu of flowers, donations may be made to St. Jude Hospital, PO Box 5, 262 Danny Thomas Place, Memphis, TN 38105 or Operation Smile, 3641 Faculty Blvd, Virginia Beach, VA 23453.