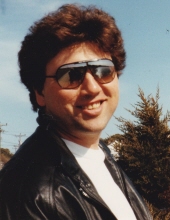 Obituary for Michael J. Murray
Michael John Murray, age 67, passed away at home in Attleboro on Tuesday, September 17, 2019. He was the son of the late Wm. George and Annabelle E. (MacDonald) Murray of Foxboro.

Michael was born in New York City on September 13, 1952, and attended Foxborough High School, Class of 1970, where he played football and excelled in history. Michael travelled throughout the US, living in Arizona, New Mexico, and California before returning home to Foxboro.

Michael was a painter by trade, and specialized as a steeplejack. He had a passion for knowledge, and could always be found reading a book or watching a documentary on a wide range of topics, particularly Native American history. He was an avid New England Patriots fan and loved college football.

He was a member of the SPCA and, while he loved all animals, dogs held a special place in his heart. Since adopting him, Mike was seldom seen without his buddy, Lucky, by his side. He was a volunteer at food pantries in Foxboro and Attleboro, and was a friend of Bill W.

Michael is survived by his brother John Murray and his wife, Kathleen, of North Attleboro; his brother Tom Murray and his wife Alesia, of So. Dennis; his sister Deborah Murray of North Attleboro; his "other sister" Lynda Walsh of Foxboro; and the late Joseph Murray. Michael was the beloved uncle of Kayla, Kyle, Ethan, Liam, Zak, and Abby; and great-uncle of Kemp.

Relatives and friends are kindly invited to attend calling hours on Friday, September 27, 2019, from 4-7 PM at the Roberts and Sons Funeral Home, 30 South St. in Foxborough. A memorial service will be held at the conclusion of calling hours. To leave an on line condolence please visit the funeral home web site at www.robertsandsonsfuneralhome.com. For additional information please call 508-543-5471.

In lieu of flowers, donations in Michael's memory may be made to the Foxboro Discretionary Fund, P.O. Box 636, Foxborough, MA 02035.