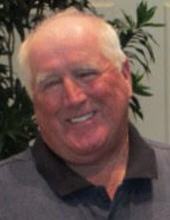 Obituary for Maurice Arthur Kelley
Maurice Arthur Kelley, age 74, passed away peacefully on Tuesday, October 29, 2019 at St. Elizabeth's Medical Center in Brighton, surrounded by the comfort of his loving family. He was the son of the late Mary (Mitchell) and Maurice F. Kelley.

Arthur was born on December 21, 1944 in Boston and grew up in Sharon, MA, where he was a resident for 32 years. It was here he was introduced to agriculture and dairy cows on the McLean's farm. He was a graduate of the Norfolk County Agricultural School in Walpole, and was active in 4H, where he showed Guernseys and met an unlikely cast of characters who became lifelong friends (and fodder for his many stories), including his first wife, Pamela Jean (Clement), who he married June 28, 1970.

In 1976, he moved to Foxborough, where he spent the next 43 years working and building Willow Grove Nursery and Landscaping, raising a family, showing Guernsey cows, and -- his favorite -- being an incredible grandfather. He married his wife Beverly (White) on January 28, 1984, and together they shepherded seven children into adulthood, leading to 14 (!) grandchildren.

He was the President of the New England Guernsey Association, was on the Board of Directors of the Mass Guernsey Breeders; a Trustee of the Big E; member of the Mass Agricultural Club and taught CCD at St. Mary's for many years. As a grandfather, he loved taking his grandchildren camping and biking on Cape Cod. He presided over Teddy bear picnics, gave pony rides and hay rides, went sledding, and somehow got kids to clean barns, milk cows, and drive tractors. He loved going to watch his grandkids in all their various activities -- sports, plays, recitals, and the annual cow show at the Big E. He told hundreds of stories over Oreos, or Cheez-Its or bowls of cereal, each one with some sort of embedded life lesson. He worked and loved and laughed right up until he couldn't anymore.

Beloved husband of Beverly (White) Kelley and the late Pamela (Clement) Kelley. Loving father of Kelly Schofield, Moe Kelley and his wife Allie, Kimberly Keith and her husband Mike, Phil Kelley and his wife Michelle, Colleen McAdams and her husband Scott, Kristen Keith and her husband Jeffrey and Mary Jean Kelley and her fiancé Vladimir Lessage. Devoted grandfather of Vincent Schofield, Pammy Kelley, Chris Keith, Kaylan Schofield, Maggie Kelley, Cameron Kelley, Ben Keith, Connor Kelley, Nathan McAdams, Hadley McAdams, Zachary Keith, Carson Kelley, Avery Keith and Addy McAdams. Brother of Dorothy Bullock, Robert Kelley, Helen Kelley and the late Barbara Fowler and William Kelley.

Relatives and friends are kindly invited to attend calling hours on Friday, November 1st from 4 PM to 7 PM at the Roberts and Sons Funeral Home, 30 South Street, Foxborough. A Funeral Mass will be celebrated on Saturday at 10 AM at St. Mary's Church, 58 Carpenter Street, Foxborough. Interment to follow at St. Mary's Cemetery, Foxborough. For additional information please contact 508 543-5471. To send an on-line condolence please visit the funeral home web site at www.robertsandsonsfuneralhome.com.

In lieu of flowers, donations in Arthur's memory may be made to the American Cancer Society, 3 Speen Street, Suite 250, Framingham, MA 01701.