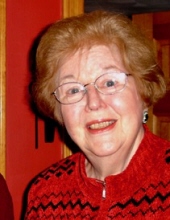 Obituary for Margaret M MacDonald
Margaret Mary MacDonald, born in Mull River, Cape Breton Island, Nova Scotia, Canada died October 15, 2019 at the age of 93. She was the daughter of the late Daniel S. and Mary Margaret MacDonald. She is survived by her sister, C. Anne McDonald of Foxborough and brothers: Phonsie (Ann) MacDonald of Marshfield and Doug (Irma) MacDonald of Chile, and 16 nieces and nephews. She was preceded in death by Alexander, Donald, Theresa and Ronald MacDonald. Before her retirement, she worked for many years as an executive secretary for the Visiting Nurse Association.

Visiting hours will be held from 2 to 5 PM on Sunday, October 20, 2019 in the Roberts and Sons Funeral Home, 30 South Street, Foxborough. A Mass of Christian Burial will be celebrated at 11 AM on Monday, October 21st at St. Mary's Church, 58 Carpenter Street, Foxborough. Burial will follow in St. Mary's Cemetery.

Donations in her memory may be made to: Massachusetts Citizens for Life, 529 Main Street, Suite 205, Boston, MA 02129

To leave an online condolence, please visit the funeral home web site at www.robertsandsonsfuneralhome.com. For additional information please contact 508-543-5471.