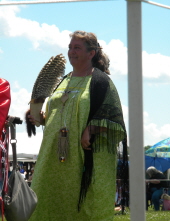 Obituary for Linda D. Wynn
Linda D. (Shepardson) Wynn entered eternal rest on March 21, 2019 in Boston.

Born on October 4, 1959 in Attleboro, the sixth child of the late Phyllis (Platt) and Raymond H. Shepardson, Sr.

She is survived by her children Crystal A. Mitchell (Derrick) of Taunton, Gayle M. Mercier (Joseph) of Attleboro and Brenda L. Blackwell (Robert Jr) of Taunton. She is also survived by her oldest grandson whom she raised, John N. Wynn of Attleboro. Also survived by her grandchildren James T. Mitchell of Taunton, Aurora L., Victoria E and Kerri A. Breen, all of Tiverton, RI, Joanna M. Mercier of Attleboro, Cheyenne L. Wynn of Buzzards Bay, Joshua L. Robson, Jr. of Marion, Starr-Nevaeh Bigeau of New Bedford, Wyatt J. Bigeau of Cartersville, GA and Summer S. Blackwell of Taunton. Great grandmother of Jesse A. Thibodeau of Attleboro. Sister of Raymond H. Shepardson, Jr. of Woodsville, NH, Cheryl Maloof (Gail MacCallum) of Hyde Park, Doreen L. Shepardson (Maryanne Clougher) of Dedham, Steven (Lisa) Shepardson of Bellingham, Glenn D. (Sandy) Shepardson, Sr. of Raynham and Scott W. (Sondra) Shepardson of Attleboro. Linda is also survived by her companion of 33 years, Michael D'Intino of Attleboro and her ex-husband Francis E. Wynn, Jr. of Buzzards Bay. Also survived by several nieces and nephews. She was predeceased by her grandson Gerald P. Bigeau II in 2008 and her sister in law, Tammie (Schultz) Shepardson in 2017.

Linda cherished her time spent with family and friends, mostly her children and grandchildren. Linda enjoyed her newest interest in genealogy, where she found long lost relatives such as her father's halfsiblings from her grandmother. She got to become close to her long lost aunt and even a cousin through genealogy and DNA She enjoyed the hours she spent teaching the grandkids about crafts, Native American culture and honoring traditions. Linda could always be found reading romance novels, baking or cooking. Linda had a great sense of humor and enjoyed a good prank. Cape Cod and New Hampshire will always hold a special place for Linda due to the picturesque views she could enjoy there. Linda is a life member of Amvets Auxiliary Norton Post 1972. She was a cherished member of the Taunton Library Yarnies group with whom she met every Wednesday when she was well enough. She will be sorely missed by her family and friends alike.

Relatives and friends are kindly invited to attend calling hours from 9 AM to 11 AM on Tuesday, April 2 at the Roberts and Sons Funeral Home, 30 South Street, Foxborough. A Funeral Service will be held at 11 AM at the funeral home. Interment to follow at St. John's Cemetery, Attleboro. For additional information please contact 508 543-5471. To send an on line condolence please visit the funeral home web site at www.robertsandsonsfuneralhome.com.