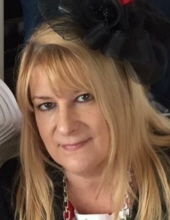 Obituary for Kelly M. Sheehan
Kelly Marie Sheehan, age 56, passed away on Sunday, November 4, 2018 at Norwood Hospital after a long, courageous battle with cancer. Alongside her oncologist, Dr. Susan Schumer of Dana Faber and Harvard Medical School, Kelly defied all odds and lived with her diagnosis for more than 15 years.

Kelly was born in Brockton on March 27, 1962. She was a graduate of Foxborough High School, Class of 1980 and attended Dean Junior College in Franklin. She lived in Foxborough for most of her life and was a former resident of Port Orange, FL.

Kelly was an administrative assistant for Prime Auto in West Roxbury. She was a member of the Hockomock Area YMCA in Foxborough. She loved spending time with her daughter and friends. She also loved her cats, horses, Kentucky Derby parties, visiting Newport, RI and attending polo matches at Newport Polo. You could find Kelly dancing and laughing with a good, strong vodka and soda in hand. She was a music enthusiast who obsessed over Fleetwood Mac and The Rolling Stones.

Beloved mother of Alexa Carpenter of Foxborough. Loving daughter of Beverly A. (Perrotta) and Bryan Sheehan of Foxborough. Sister of the late Maureen Sheehan.

Relatives and friends are kindly invited to attend calling hours on Tuesday, November 13, 2018 from 5-7 PM at the Roberts and Sons Funeral Home, 30 St. in Foxborough. A memorial service will be held at the conclusion of calling hours at the funeral home. To leave an online condolence please visit the funeral home web site at www.robertsandsonsfuneralhome.com. For additional information please contact 508-543-5471.

In lieu of flowers, donations in Kelly's memory may be made to the LIVE STRONG Alumni Program, 40 Balcom St. Mansfield, MA 02048.