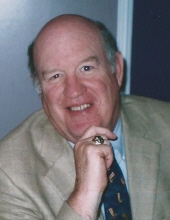 Obituary for K. Gerald "Spike" Smith
K. Gerald "Spike" Smith, age 77, passed away on October 27, 2018 surrounded by the comfort of his loving family at the Philip Hulitar Hospice Center in Providence. He was the son of the late Karl G. and Irene (Klein) Smith.

Spike was born on October 19, 1941 in Hornell, NY and was a graduate of Sharon High School, class of 1960, Saint Bonaventure University, class of 1965 and received his Masters and C.A.G.S. from Bridgewater State. He was employed as a principal in Brockton at the Ellis Brett Elementary School and in Norton at the L.G. Nourse Elementary School. He married his wife Sheilah (Shea) Smith on August 21, 1965 at St. Mary's Church in Foxborough. Formerly of Naples, FL, Spike was a resident of Foxborough and spent summers in Boothbay Harbor, Maine.

Spike was an avid reader and lover of history. He was a fan of the Minnesota Twins, Boston Red Sox, the New England Patriots and Saint Bonaventure Men's basketball. His contributions to the education community were numerous, as he served on many boards and initiated innovative programs. He was a mentor to many teachers over the years and loved being a principal and connecting with the children in his schools. In his retirement he was on the Board of Directors at the Greater Naples YMCA, helping in the development of their early childhood program. He most enjoyed spending time with his family. Spike was a loving and devoted husband, father and grandfather.

Devoted husband of Sheilah (Shea) Smith. Loving father of Kristian and her husband Robert Edgar of Foxborough and Kate and her husband Dennis Rochford of Foxborough. Adoring grandfather of Matthew and John. Brother of Susan (Smith) Schultz and her husband William of Schenectady, NY.

Relatives and friends are kindly invited to attend calling hours on Friday, November 2 from 4 to 8 PM at the Roberts and Sons Funeral Home, 30 South Street, Foxborough. A Funeral Mass will be celebrated on Saturday at 10 AM at St. Mary's Church, 58 Carpenter Street, Foxborough. For additional information please contact 508 543-5471. To send an on line condolence please visit the funeral home web site at www.robertsandsonsfuneralhome.com.

In lieu of flowers donations may be made in Spike's memory to Hope Hospice, 1085 N. Main Street, Providence, RI 02904.