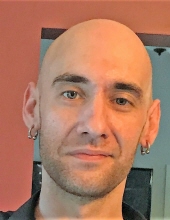 Obituary for Justin Andrew Wamboldt
JUSTIN ANDREW WAMBOLDT, 38 of Attleboro took his life at his home
the morning of Tuesday, October 16, 2018. He was the son of Karen
Baltazar-Dupuis and Michael of N. Attleboro, MA and Steven A.
Wamboldt and Manee of Valley Cottage, NY.

In addition to his parents he leaves behind his devastated grandmothers
Kathleen M. Baltazar of Foxboro, MA and Pearl Johnson of White Plains,
NY. His grandfather Albert G. Baltazar predeceased him in June 2017.
He also left behind a sister Stephanie Bennett and a brother Nicholas
Wamboldt. He was blessed with many aunts, uncles, cousins and very
good friends. He sadly leaves his girlfriend Madelyn (Maddie) Pierce of
Wrentham whom he adored and would do anything for and her son.

Justin attended school in Foxboro, and grew up in Foxboro, and
Plainville, MA. He enjoyed playing golf and was an avid reader. He felt if
you didn't read something every day and learn from your reading you
had wasted your day. As a child his mother used to have to tell him to
stop reading and get ready for school. What mother tells their child to
stop reading? He also loved to travel and would have loved to travel the world. His favorite show was Jeopardy and he took the test to be
on the show many times, but was never called. Anyone who watched the
show with him would be blown away by how well he answered the
questions. His grandfather, Papa would just watch him as he watched
the show.

Justin had a large family including Maddie, who would love him with all their
hearts, yet because of his illness he felt alone and unloved. In
remembrance of Justin his mother asks that if you know anyone
suffering from mental illness young or old that you fight and fight and
then fight some more for them and tell them loud and clear how much
you love them and that they are not alone. No matter what you believe
or don't believe please walk outside today, look for a cardinal and even if
you don't see one tell Justin what he meant to you.

Relatives and friends are kindly invited to attend a Remembrance of Justin and the person he was on Saturday, October 20, 2018 at 3:30 PM at the
Roberts and Sons Funeral Home, 30 South Street,
Foxborough. For additional information, please call 508-543-5471. To send an online condolence, please visit the funeral home web site at www.robertsandsonsfuneralhome.com.