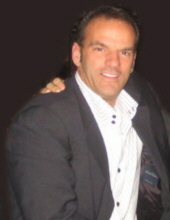 Obituary for John "JJ" Jeannetti
John Jeannetti, affectionately known as JJ, 58, passed away unexpectedly at his home on Saturday, October 19, 2019.

Born on October 5, 1961 in Boston, JJ grew up in Dedham. While living in a variety of places across Massachusetts, Wellfleet became a second home, filled with family trips to the Beachcomber, a place where he was his happiest.

JJ had a larger-than-life personality that left a lasting impression on everyone he met and lifted the spirits of those lucky enough to be in his presence.

Throughout his life, JJ's career path took many turns fueled by his creative energy and determination to seize an opportunity in front of him. After working in the mortgage industry for many years, JJ founded and ran the Netti Group, a land development company working in the greater Boston area. After managing several gyms, he most recently was employed as a manager at Float in Warwick, RI, a wellness studio and spa. His love for people and desire to build relationships and interact with others was his guiding principle. His strong work ethic was rooted in his first job as a teenager, delivering groceries with his father and brothers for a local market, a role that he often referred to as, "the original PeaPod service."

JJ was a music enthusiast with a passion for talking about his favorite bands. He spent time following Hall and Oates on tour, was recently devastated by the Los Lonely Boys breakup, enjoyed the soundtrack to A Star is Born more than he was willing to admit, but most notably was a groupie of a local Aerosmith cover-band, Draw the Line, which sparked a lasting friendship with the band's lead singer, Neill Byrnes.

Sports have always had a special place in JJ's heart. While he missed out on the opportunity to play sports in high school, he made up for it by playing a variety of recreational leagues as an adult. JJ helped coach the Curry College football team in the late 90's and loved watching his son excel in high school and college athletics. He was a true New England sports fan, rooting for the Patriots well before their Super Bowl streak, and the Red Sox before they reversed the curse in 2004. Watching JJ watch a game was entertaining in itself; he brought so much passion to just being a fan.

Never described as subdued, JJ was the life of the party in any setting. For years, he coordinated an event called Field of Dreams Tour, where he packed two luxury coach buses with friends and family for a 200+ mile ride to Copperstown, NY for a few nights of camping and a pick-up game of baseball on Doubleday field. After 6 years of this adventure, JJ did what only seemed right to him, he rented Fenway Park and turned the event into a fundraiser for The Jimmy Fund. He had a heart bigger than his wallet and lived his life with a desire to support local nonprofits when he could, most recently the Gloria Gemma Breast Cancer Resource Foundation.

JJ's proudest accomplishment, light of his life, and best friend was his son, Daryl. The two had a Bill Belichick and Tom Brady-esque bond that few could understand but all could admire. His heart was full and mind at ease when he was spending time with Daryl and his wife, Keri, at their home in Attleboro, where the three could often be found cozy on the couch enjoying a game. Two months ago, JJ's personality shined brightest when he met his grandson, Jackson Pierce Jeannetti. Daryl and Keri received a daily morning text from JJ that simply said "Jackson!!!!!", a constant reminder of his love and affection for their growing family
Aside from being a devoted father of Daryl Jeannetti and his wife Keri of Attleboro, loving grandfather of their son Jackson, son of Barbara (Gallagher) Botaish and her late husband Francis Botaish of Harwich and the late Peter Jeannetti Sr. JJ is survived by his brother Peter Jeannetti and his wife Karen and their son Matthew of Norwood, his brother Dan Jeannetti and his wife Carol of Stoughton, Katie, Little Sy, and Jill Zarthar, children of his late sister Joan Zarthar.

Relatives and friends are invited to attend calling hours on Tuesday, October 29, 2019 from 4 -7 PM at the Roberts and Sons Funeral Home, 30 South Street, Foxborough. A memorial service will be held at the conclusion of calling hours. For additional information, contact 508 543-5471. To send an online condolence, visit www.robertsandsonsfuneralhome.com. The family will accept flowers, please call Judy's Village Florist at 508 543-4400.