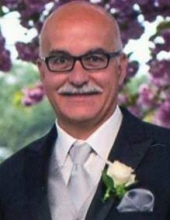 Obituary for John Henry Hebert
Mr. John Henry Hebert passed away peacefully on February 14, 2019 in Uxbridge, MA, at the age of 60 years old.

John is predeceased in death by his wife Mary (Rennie) Hebert of Foxboro, MA, and father Norman Hebert of Pawtucket, RI. John is survived by mother Marcelle Hebert from Pawtucket, RI, two sons John-Henry Hebert (and significant other Angelica Bissonnette) of Woonsocket, RI, Michael Hebert (and fiancé Laura Barsano) of Uxbridge, MA, daughter Renee Cotnoir (and husband Christopher Cotnoir) of North Smithfield, RI, two sisters Susan Dewitt of Forestdale, MA, Donna Barron of Blackstone, MA, and many nephews and nieces.

John was born on October 30th 1958, in Pawtucket, RI, to Norman and Marcelle Hebert. He married Mary, the love of his life on June 18th 1983. Buying their first home in Pawtucket, the couple filled it with three children. Working while he studied, John received his bachelor's degree in Business Administration from Bryant University. After graduating Bryant, John got a job at Fidelity where he worked numerous years before retiring.

John's children remember him as a kind, confident, focused and thoughtful father who encouraged them to pursue their goals. John felt his greatest accomplishment was becoming a father. He always put his kids first and cherished Father's Day. He was a man who loved to garden as much as travel and often believed in charitable causes. John was also an active and dedicated member of the Knights of Columbus.

Relatives and friends are kindly invited to attend a calling hour from 4:00 PM to 7:00 PM on Monday, February 18, at the Roberts and Sons Funeral Home, 30 South Street, Foxboro. A Funeral Mass will be celebrated at 10 AM on Tuesday, February, 19, at St. Mary's Church, 58 Carpenter Street, Foxboro. In lieu of flowers, please send donations in the memory of John Hebert to Meeting Street School at 1000 Eddy Street, Providence, RI or to Dana-Farber Cancer Institute, P.O. Box 849168, Boston, MA 02284. To send an on-line condolence please visit the funeral home web site at www.robertsandsonsfuneralhome.com.