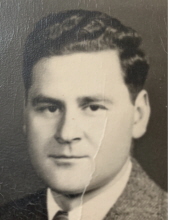 Obituary for John Dominic Colaneri
John Dominic Colaneri, age 99, passed away peacefully at the Phlip Hulitar Hospice House in Providence, RI. He was the son of the late Giovanni and Concetta (Ucci) Colaneri.

John was born on March 12, 1920 in East Boston and was a graduate of Northeastern University in Boston. He proudly served his country during WWII in the US Army. He was employed by Bird Machine of Walpole and later by the W. R. Grace Company of Cambridge as a chemist. He married his first wife, the late Betty (French) Colaneri on July 3, 1951 and then married the late Mary (Hayes) Colaneri on April 30, 1971. John was a former member of the Sunset Four, a barbershop quartet. He was a former long-time member of the Sharon Country Club and the choir at the First Congregational Church of Sharon. John was an avid sportsman, enjoying tennis, golf, fishing and cross country skiing. John most enjoyed spending time with his family. He was a loving and devoted husband, father and grandfather.

Devoted father of Chris Colaneri and his wife Maureen of TX, Peter Colaneri of Foxborough, Stephanie Quintal and her husband Carl of Sharon, Andy Gunniss and his wife Wanda of OH and Amanda Gunniss and her husband Domenic Capossela of Sharon. Loving grandfather of Aphrodites, Samantha, Madeline, Ian, Hilary and Dylan. Brother of the late Hilda Wallace and Nicolina (Nellie) MacPhail.

Relatives and friends are kindly invited to attend a memorial service on Saturday, May 11 at 11 AM at the First Congregation Church of Sharon, 29 N. Main Street, Sharon. For additional information please contact 508 543-5471. To send an on-line condolence please visit the funeral home web site at www.robertsandsonsfuneralhome.com.

In lieu of flowers, donations in John's memory may be made to Wounded Warrior's, PO Box 758517, Topeka, KS 66675-8517.