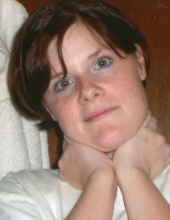 Obituary for Jodi Lee Davis
Jodi Lee Davis, age 40, passed away on February 22, 2019 after a courageous battle with cancer.

Jodi was born on February 26, 1978 in Foxborough and was a graduate of Foxborough High School, Class of 1996. She was formerly employed at Shaw's in Sharon and Stop & Shop in Foxborough. She was also an uber driver. Jodi was an avid reader and loved to cook. She was a New England Patriot's fan and loved animals. She most enjoyed spending time with her family. She was a loving and devoted fiancé, mother and daughter.

Loving fiancé of Mitchell Piasecki. Devoted mother of Madison and Mitchell Piasecki of Foxborough. Beloved daughter of Vicki Davis Kovich of Foxborough and the late Daniel Davis. Sister of Daniel Davis, Jr. of Foxborough and Hali Ann Kovich of Mansfield. Granddaughter of Donald and Beverley Treanie of Foxborough and the late Irving "Jeff" and Blanche (Winslow) Davis.

Funeral arrangements are private and are under the care of the Roberts and Sons Funeral Home, Foxborough. For additional information please contact 508 543-5471. To send an on-line condolence please visit the funeral home web site at www.robertsandsonsfuneralhome.com.

In lieu of flowers, donations in Jodi's memory may be made to the Dana Farber Cancer Institute, 450 Brookline Avenue, Brookline, MA 02215.