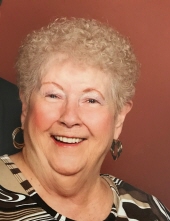 Obituary for Jeanne C. Sanford
Jeanne C. "Jeannie" Sanford (nee Ouellette)
October 26, 1934 to October 4, 2019

Jeanne C. (Ouellette) Sanford, aged 84, passed away on Friday, October 4, 2019, in Ocala, Florida. She was born on October 26, 1934, in North Attleborough, Massachusetts to Mary Lucinda (Ringuette) and Ernest Philipe Ouellette. She lived most of her life in Massachusetts, moving to Florida in 2006.

She is survived by her loving, devoted husband Peter, daughter Karen (Scott) Ogden, son Bob (Janice) Gammons, son Bill (Amanda) Spittell, twelve grandchildren, twelve great grandchildren, sister Lena, and brother Roland.

She was predeceased by her parents; daughter Valerie; grandson Jamie; sisters Edna, Alice, Anita, Bertha, Lil, and Lucy; and brothers Ovila, Edmund, Albert, and Francis.

Over the years, she had many hobbies including playing cards, bowling, Scrabble, crocheting, cooking & entertaining, and bingo & casino slots. She was a wonderful caretaker to cats Frosty and Sox, who were very special to her. The New England Patriots football team roused lots of cheers and jeers from her.

A memorial service will be held in Massachusetts on Saturday, October 26, 2019. The visitation from 10 – 11 and the service at 11 will be held at Roberts & Sons Funeral Home located at 30 South Street in Foxboro. Burial will follow immediately at Spring Brook Cemetery located at 165 Spring Street in Mansfield. A light luncheon will be served afterwards; the location will be announced at the visitation.