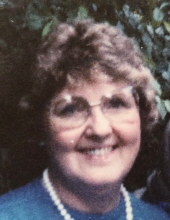 Obituary for Janice E. Gates
Janice E. (Goodwin) Gates, age 81, passed away November 19, 2018 at the New England Sanai Hospital surrounded by the comfort of her loving family. She was the daughter of the late Leslie and Bernice (Trznadel) Goodwin.

Janice was born on April 11, 1937 in New Bedford. She was a graduate of New Bedford High School where she was a swimmer and won numerous awards and medals. She was employed as a secretary for many years at the First Baptist Church in Foxborough and later at the Second Congregational Church in Attleboro. Janice was a devout Christian and extremely active in the First Baptist Church in Foxborough where she was a long-time member. She enjoyed watching sports, including the New England Patriots, Boston Red Sox and especially tennis. An avid reader, she also enjoyed watching movies. She adored visiting Boston, Cape Cod, swimming in the ocean with her grandchildren and celebrating Halloween. She most enjoyed spending time with her family. She was a loving and devoted mother and grandmother. Her grandchildren were the love of her life.

Former wife of the late Rear Admiral John W. Gates, Jr. Devoted mother of Leslie and her husband Kevin Guerrini of Foxborough, Joanne and her husband Rick Owens of Texas, David Gates and his partner Maureen Delaney of Foxborough and the late John W. Gates, III. Loving grandmother of Nicholas, Chelsey, Shaina, Michelle, Michael and Joey. Sister of Bill Goodwin of New Bedford.

Relatives and friends are kindly invited to attend calling hours from 4 PM to 7PM on Thursday, November 29. A Funeral Service will be held on Friday at 11 AM at Bethany Congregational Church, 3 Rockhill Street, Foxborough. Interment to follow at Rock Hill Cemetery, Foxborough. For additional information please contact 508 543-5471. To send an on-line condolence please visit the funeral home web site at www.robertsandsonsfuneralhome.com.

In lieu of flowers, donations in Janice's memory may be made to the Foxboro Discretionary Fund, PO Box 636, Foxborough, MA 02035.