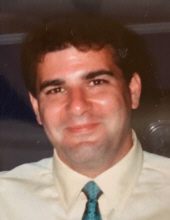 Obituary for James Neil Forster II
James Neil Forster II, age 58, of New York, NY, formerly of Foxborough, passed away unexpectedly on Saturday, December 22, 2018.

James was born in Norwood Hospital on September 29, 1960 and was a graduate of Foxborough High School, Class of 1978. He earned his Bachelor's degree in finance at Northeastern University in Boston and went on to work at investment firms in Boston, Palm Beach, and New York City. Most recently he was a private consultant for the New York Society of Security Analysts. A dedicated pool player, he participated in billiard leagues in the Manhattan area. He became a Mason like his father and grandfather, traveled Europe, loved good jazz, classical, and rock music. He is remembered by his friends and family as a witty, intelligent, caring, son, brother, uncle and godfather.

Devoted son of Sylvia (Eysie) Forster and the late James Neil Forster. Beloved brother of Angela F. F. Davis and her husband Michael K. Davis of Foxborough. Loving godfather and uncle of Dimitrios and Sophia Davis.

Relatives and friends are kindly invited to attend a funeral service at 2:00 p.m. on Sunday, January 6, 2019 at St. Mark's Episcopal Church, 116 South Street, Foxborough. Internment to immediately follow in the Church Memorial Garden. For additional information please contact 508 543-5471. To send an on line condolence please visit the funeral home web site at www.robertsandsonsfunerlahome.com.

In lieu of flowers, donations in JN's memory may be made to St. Marks Church, 116 South Street, Foxborough, MA 02035.