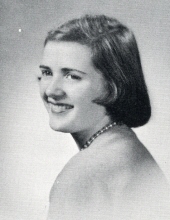 Obituary for Elizabeth "Liz" Jane Mosher
Foxborough-Elizabeth "Liz" Jane (Gillie) Mosher, age 83, passed away peacefully at her home
surrounded by the comfort of her loving family on Tuesday, September 4, 2018. She was the
daughter of the late Stanley and Katherine (MacKenzie) Gillie.

Liz was born in Greensboro, N.C. on October 5, 1934. She was a graduate of Foxborough High School, Class of 1952 and was a graduate of Boston University, Class of 1954. She and her husband Herb were married at the Edgewood Congregational Church in Cranston, R.I. on
October 29, 1955. They were together for 65 years. She has also been a resident of Foxborough for many years.

She was a former Church Secretary for the Bethany Congregational Church in Foxborough and was a former youth group leader, as well as a former Deaconette. She was very active in the community, coordinating class reunion events for her friends, and family occasions that brought everyone she loved together. An avid animal lover her entire life, she also proudly owned MacDuff, her award winning champion bearded collie.

Liz is, and will be, forever beloved by her family and friends, and the legacy of love and fun she has left behind. She was welcomed to heaven by her family who have passed including; her mother and father, her brother Stanley Gillie, and her sister Muriel Gillie Bird. She is survived by her daughters; Karen J. Touzos and her husband Rich of Foxborough, Susan L. Mosher and her husband Kevin of Land O Lakes, FL, Beth Mosher of Foxborough and her five grandchildren Corey "Veda", Courtney, Dan, Jackie, and Hannah.

Calling hours remembering Elizabeth will be held at Roberts and Sons Funeral Home, 30 South Street, Foxborough on Friday, September 7th, from 5-8 PM. A celebration of her life will be held at Bethany Congregational Church in Foxborough at a later date.

Donations can be sent in her honor to the Mansfield Animal Rescue at 175 Fruit Street, P.O. Box 25, Mansfield, MA, 02048, or online at www.MansfieldShelter.org.