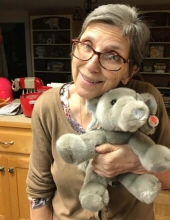 Obituary for Donna Marie Milhomme
Donna Marie (Harding) Milhomme, age 66, passed away on Thursday, October 25, 2018, in Milton, Massachusetts, surrounded by family and friends.

She was born on June 29, 1952, in Attleboro. A graduate of Foxboro High School (class of 1970), she attended Greenfield and Massasoit Community Colleges, and married her high school sweetheart Bill Milhomme on August 24, 1974, in Foxboro. Together, they had four loving children. A lifelong resident of Foxboro, Donna worked at the Foxboro Wonder Museum, the Tobacco Control Coalition, Foxboro Cable Access, and EOMS Recycling. Her occupations reflected her desire to positively impact her community, but even that was surpassed by her profound devotion to her family. Selfless and dedicated, she was always more concerned about the welfare of others than herself, even in her final months.
Left to honor Donna is Donna's husband Bill; her mother Mary; three brothers Peter, Donald, and Michael; four children and their spouses, Kayne and Marcy Milhomme, Toby and Bill Nichols, Tracy and Brandin Tumeinski, and Matthew Milhomme and Sara Nichols; seven grandchildren; several nieces and nephews, including Angela Milhomme Pereira and Matt Pereira, and many close friends.
The Milhomme family would like to extend our gratitude to the staff at the Seasons Hospice in Milton for their attentiveness and loving care. In lieu of flowers, donations may be made to The Elephant Sanctuary, P.O. Box 393, Hohenwald, Tennessee 38463, www.elephants.com. "Children are the living messages we send to a time we will not see" - John W. Whitehead.