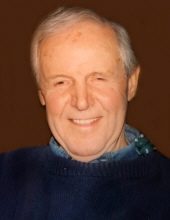 Obituary for Donald W. Phelps
Donald W. Phelps, age 84, long time resident of Foxborough, MA, passed away peacefully on October 5, 2018 at the VA hospital in Bedford, MA surrounded by his loving family. Beloved husband of 58 years to Mary E (Monaghan) Phelps, originally of West Medford. Donny was born in Sharon, MA on December 2, 1933, the son of the late Parker W Phelps (Sharon, MA) and Doris Cox Phelps (Robinson, ME).

Donny is survived by his wife Mary and his three daughters; Jeanne and her husband Bob Blair of Norton, MA, Kris and her husband Bob Fitzgerald of Walpole, MA, and Beth of Cornish, ME. He was also blessed with five grandchildren; Brandon, Jessica, Samantha, Naomi and Rohn.

Donald graduated from Sharon High School in 1952 and then joined the army during the Korean Conflict (1953-1956). After his service in the Army he graduated from Wentworth Institute of Technology in 1959 with a degree in civil engineering. He then continued his education at multiple institutes in the fields of engineering and construction management.

During his career, Don worked for the Commonwealth of Massachusetts in the Bureau of Construction, Whitman and Howard, Metcalf and Eddy, Digital Equipment, and Lahey Clinic. After retiring he kept busy working for many large contracting outfits.

Don had many hobbies, in his younger years he loved boating and water skiing especially on Lake Massapoag in Sharon. He was a self-professed golf hacker and enjoyed taking flying lessons. He was especially fond of traveling, including exploring the wonders of our countries National Parks, and his true happy place was the rocky coast of Maine. Don was also a member of the American Legion and was a fourth degree Knight of Columbus.

Donny was a dedicated member of the Friends of Bill W group for over 45 years. He devoted much of his life in helping others towards recovery. It was his true calling and passion, and he touched so many lives through this effort.

Relatives and friends are kindly invited to attend calling hours on Thursday, October 18 from 1 to 4 PM at the Roberts and Sons Funeral Home, 30 South Street, Foxborough. A funeral service will be held at 4 PM at the funeral home. For additional information please contact 508 543-5471. To send an on line condolence please visit the funeral home web site at www.robertsandsonsfuneralhome.com.

In lieu of flowers donations in Don's memory may be made to Foxborough Veteran's Services, 40 South Street, Foxborough, MA 02035.