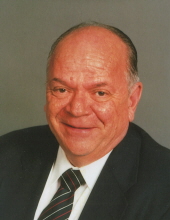 Obituary for Charles P. Garbarino
Charles P. Garbarino, age 77, passed away Thursday, October 17, 2019 at New England Sinai. He was the son of the late Charles L. and Paula (Aires) Garbarino.

Charles was born on August 12, 1942 in Boston and was a graduate of Dedham High School. He was employed as a lab technician for over forty years at Polaroid. He married his late wife Elaine (Brodeur) on May 20 1967 at St. Theresa's Church in West Roxbury. He loved traveling with family and friends, cooking, working around the house and outside in the yard. He was an avid New England Patriot's fan. He most enjoyed spending time with his family, especially his grandchildren.

Beloved father of Janet Headd of Foxborough and Paul Garbarino of S. Attleboro. Devoted grandfather of Allison and Jessica Headd of Foxborough and Kaleb Garbarino of RI.

Relatives and friends are kindly invited to attend calling hours on Wednesday, October 23 from 4 PM to 7 PM at the Roberts and Sons Funeral Home, 30 South Street, Foxborough. A Funeral Mass will be celebrated on Thursday at 10 AM at St. Mary's Church, 58 Carpenter Street, Foxborough. For additional information please contact 508 543-5471. To send an on line condolence please visit the funeral home web site at Cwww.robertsandsonsfuneralhome.com.

In lieu of flowers donations in Charles' memory may be made to the Foxborough Discretionary Fund, PO Box 636, Foxborough, MA 02035.