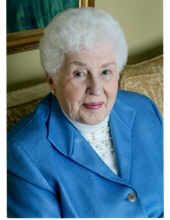 Obituary for Catherine Anne McDonald
Catherine Anne (MacDonald) McDonald, age 90, passed away peacefully at her home on Friday, October 25, 2019 surrounded by the comfort of her loving family. She was the daughter of the late Donald and Margaret (MacEachern) MacDonald.

Catherine, known as Anne, was born in Mull River, Cape Breton, Nova Scotia and has been a Foxborough resident for the past 61 years. She married her late husband John Randall "Randy" McDonald at St. Mark's Catholic Church in Dorchester in 1957 and was a long-time communicant of St. Mary's Church in Foxborough. She enjoyed Scottish music and culture and summers in her native Cape Breton. She shared freely her love of cooking and entertaining with friends and family. Catherine was a loving and devoted wife, mother, sister, grandmother and great grandmother.

Devoted mother of Charlotte Jones and her late husband Gary, Randy and his wife Robin McDonald, Marlene McDonald, Janice McDonald, Pamela McDonald, Russell McDonald and the late Bryan McDonald and his wife Theresa. Loving grandmother of JJ, Lindsay, Stuart, Brendan, Colleen, Kerri, Shannon, Danny, Kelly, Colin and Bryan. Great grandmother of Annie. Sister of Phonsie and his wife Ann MacDonald of Marshfield and Doug MacDonald and his wife Irma of Chile and the late Margaret MacDonald, Alec MacDonald, Donnie MacDonald, Theresa MacDonald, and Ronnie MacDonald.

Relatives and friends are kindly invited to attend calling hours on Wednesday, October 30 from 4 PM to 7 PM at the Roberts and Sons Funeral Home, 30 South Street, Foxborough. A Funeral Mass will be celebrated on Thursday at 10 AM at St. Mary's Church, 58 Carpenter Street, Foxborough. Interment to follow at St. Mary's Cemetery, Foxborough.

In lieu of flowers, donations in Anne's memory may be made to the Massachusetts Citizens for Life, 529 Main Street, Charlestown, MA 02129 or the Massachusetts Special Olympics, 512 Forest Street, Marlborough, MA 01752.