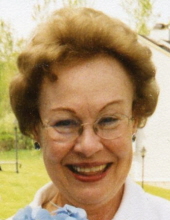 Obituary for Carolynn Ruth Smallwood
Carolynn Ruth Smallwood, 85, of Canton, MA passed away on September 22, 2019. Carolynn was born on May 10, 1934 in Olean, NY the daughter of Victor Lee and Ruth (Hedlund) McBride. Carolynn was the loving wife of J. Herbert "Herb" Smallwood, her husband of 48 years until his passing in 2000. They raised their four children in Holliston, MA and Clinton, CT. Carolynn was a teacher's aide and worked in banking in later years, and was an active member of the United Methodist Church of Clinton, CT.

Her love of family was the cornerstone of Carolynn's life. She and Herb fell in love in college at Alfred University in NY. Their marriage was a testament to true love, an enduring commitment to family, and a delight in their ability to make each other laugh. Carolynn will be remembered by family, friends, and her childrens' friends for her kindness, thoughtfulness, and generosity of spirit. She loved living by the harbor in Clinton, visits with Dot and Flip in Sunapee, NH, and every second spent with her many grandchildren and great grandchildren.

Carolynn will be lovingly remembered by her children Robert (Sonjia) Smallwood of Glen Haven, CO; Cynthia (Ronald) Sullivan of Foxboro, MA; Brian (Susan) Smallwood of Franklin, TN; and Amy (John) Kacerik of Pomfret Center, CT. Grandma Carolynn will be forever missed by her grandchildren Megan (Brian) Kelly of Dubai; Trevor (Kristi) Dane of Bentonville, AR: James Sullivan of Canton, MA; Amy (Ryan) Brandreth of Chester, NH; Sarah (Jason) Pena of Richmond, VA; Jordan (Kegan) Smallwood of Harlem, NY; Thomas Kacerik of Pomfret, CT; Forbes Smallwood of Franklin, TN; Nathan Kacerik of Newton, MA; Caroline (Cory) Edwards of Franklin, TN; Joshua Kacerik of Pomfret, CT; and Abigail Smallwood of Franklin, TN; as well as by her eleven great-grandchildren.

In lieu of flowers donations may be made in her memory to the Alzheimer's Association at alz.org. Arrangements are under the care of Roberts & Sons Funeral Home in Foxboro, MA.