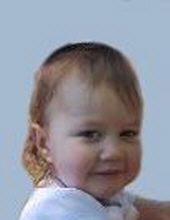 Obituary for Aubrey Marie Eaton
Randolph-Aubrey Marie Eaton, age 2, passed away peacefully at her home after a long battle with CHD surrounded by the comfort of her loving family.

Aubrey was born at South Shore Hospital in Weymouth on December 19, 2015, the beloved daughter of Michael and Kimberly (Goodwin) Eaton. Loving sister of Brianna Eaton. Adored granddaughter of Karen and Douglas Goodwin of Holbrook, Ellen Eaton of Topsfield and the late Thomas Eaton and Patty Rhodes. Niece of Robin and Russell Francis and Lester and Amy Rhodes of Kansas City, MO, Molly and Stephen Thomas of Providence, RI, Brian Eaton and Bonnie Rudder of Florence, Daniel Goodwin and Victoria Larochelle of Burrillville, RI and Robert Goodwin of Whitman. Also survived by several loving cousins, Ben, Hannah, Amber, Levi, Samantha, Benjamin, Madeline and Madelyn.

Aubrey loved the water, dogs, enjoyed coloring, playing outside, balloons and blowing bubbles. Most of all she enjoyed being with her loving family.

Relatives and friends are kindly invited to attend calling hours on Saturday, August 25, 2018 from 10 AM to 1 PM at the Roberts and Sons Funeral Home, 30 South Street in Foxboro. A funeral service will be held at 1 PM at the funeral home. To leave an on line condolence please visit the funeral home web site at www.robertsandsonsfuneralhome.com. For additional information please contact 508-543-5471.

In lieu of flowers, donations in Aubrey's memory may be made to The Joseph Middlemiss Big Heart Foundation, Inc., PO BOX 428 Dracut, MA 01826 or to Gracies Gowns P.O. Box 1446, Spotsylvania, VA 22553.